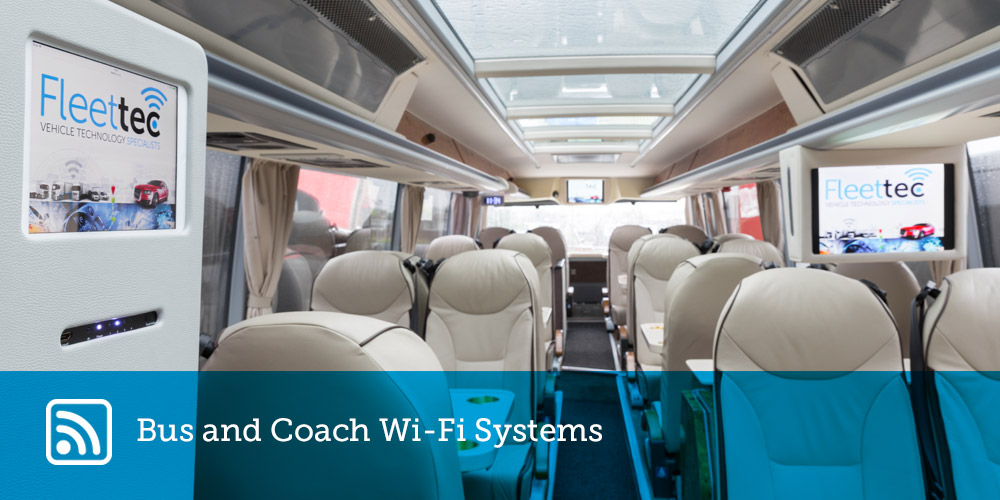 Bus and Coach Wi-Fi Systems
K&M Fleettec have developed a fast, reliable, affordable bus and coach Wi-Fi system solution. Our Wi-Fi service is fully managed to make sure data costs are controlled and affordable. As a bus and coach operator you will know the feedback from clients often contains complaints about the quality or nonexistence of Wi-Fi during their journey. What once was an exception is now the rule and passengers are unwilling to be without the use of their tablets, laptops and phones whilst traveling. The journey is now part of many commuters' working day. Access to emails and office files has become the norm especially with more cloud based business services allowing access to office files, spread sheets and accounting information from just about any Wi-Fi connected device.
A solid internet & Wi-Fi service is definitely a must have but to provide such a service requires some planning.
First of all not all bus and coach Wi-Fi systems are the same. Some systems have a plug and play box that just requires power and an internet service SIM. Most systems are not designed to provide reliable Wi-Fi in a moving environment. The problem with a self-contained system is it will fail more often due to the lack of external antennas to pick up the weaker mobile broadband signals resulting in a start stop service and slow internet speeds. The signal strength is very important as the distance between the mobile broadband masts can often be quite great. If the signal is weak the service is poor, and when you have lots of passengers connected to the poor service it is divided between them.
Our equipment uses a minimum of two external antennas per internet service plus at least two antennas for the Wi-Fi service. As signal strength is directly related to internet speed it is important that good signal strength is available both to the bus or coach and then Wi-Fi to the passengers. Now to really impress and have the fastest Wi-Fi for your bus and coaches we make use of LTE network technology which has far greater speed than conventional 3G or 4G services. To take reliability and internet speed even further we recommend a minimum of two of these LTE networks operating simultaneously which makes total failure highly unlikely and provides the fastest mobile broadband and Wi-Fi systems possible. To make the fast internet services run together we "BOND" the networks so they behave more like – one really reliable service as opposed to two separate services. What this means for example is your on line banking doesn't suspect fraud when the internet service changes, or the streamed video doesn't stop. Swapping provider half way through most activity online has undesirable effects even though the Wi-Fi service DIDN'T ACTUALLY STOP. Our bonded service prevents interruptions from happening.
Our bus and coach Wi-Fi systems can be put to use in other ways than you may first have thought, we often connect monitors to provide media from a variety of sources to provide entertainment, information or even advertising. Ticket machines can be "ON-Line" along with CCTV systems simplifying back-ups and the need to go to the vehicle when data is needed.